© Jamie Foster, 2005-present
7.5: A Very Big Day on the PB&J
07/09/06
Serafina's first steps.
Completed first loop, kid tested.
Huskie drive train in place; electronics underway.



Trevor in the midst of installing the Huskie's drive train.



While Jon, with Matt's assistance, works the Huskie's electronics.



The Huskie is taking shape!



Serafina took her first steps today!



First for Jon inside, then outside for all to enjoy.



Most of the work today was final grading, leveling, and ballasting from the frontyard switch all the way to the backyard gate. That's about half of the loop!



Matt and Jon tackle the final setting of the curve on the driveway. Challenging!



Drive train is in, man.



Everyone came out to witness the first complete-loop handcar run with David at the controls.



People are going to enjoy passing the G-scale layout.



Now Hailey is the engineer.



Hailey comes across the driveway where Matt and Jon are just finishing up the curve.



Next trip around we added a flat car.



And finally we added the Phlatt car (blue with adirondack chairs).



That G-scale layout is quite the attraction.



David approaches the frontyard switch.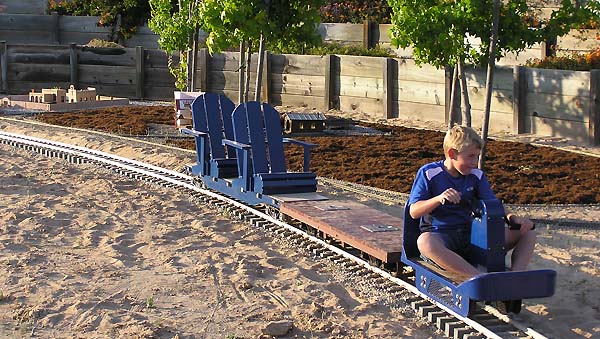 And cruises past the G-scale area.

| G-scale | 7.5" Gauge | Home | News | Links | Gift Shop | About |