The educational experience described on this web site attempts to teach social studies, local history, and some science to a third grade class under the umbrella of railroading.

The Santa Maria Valley area on the central coast of California enjoys a rich history of railroading beginning in the 1800s and lasting all the way to the present in the form of a shortline railroad still operating today (the Santa Maria Valley Railroad).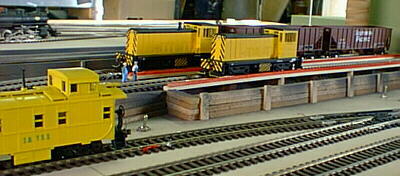 Railroads made a dramatic impact on the lives of people throughout this country (and the world) over the past couple of centuries, including this area. A plethora of social ramifications are manifest. The history and social studies of this area could not be properly told without a healthy dose of railroading. Throw in some science to explain how railroading works, and voila!, a unit on railroading that hits many third grade study areas (see "For Teachers").

In March of 2002, a model railroad (HO gauge) first came to a third grade classroom at Alvin Elementary School in Santa Maria, California. But the project started much earlier than that. In addition to the planning and the building of the railroad layout outside of the classroom, in-class activities also prepared the children for the arrival of the railroad.


Activities before and after the layout's arrival include a visit to two museums (the Santa Maria Valley Historical Museum [2002 trip, 2003 trip] and the Santa Maria Valley Railway Historical Museum [2002 trip, 2003 trip]) and some reading about railroads in general and about the Santa Maria Valley Railroad (SMVRR) in particular. We also visited the SMVRR yard and enginehouse [2002 trip, 2003 trip] located within walking distance of the school. Overall, we wanted the students to get a feel for what the railroads meant to the local Santa Maria area, the state and country, and the world for over 170 years. See the schedule: 2002, 2003. Our 2003 year also included an Amtrak trip from Guadalupe to Santa Barbara!

Pictured at right is a framed print hanging in the classroom of a SMVRR train with a plane piloted by Captain Hancock flying overhead.


Classroom lessons before and after the model railroad platform arrives will include (roughly) 30-minute presentations/sessions (Powerpoint slides if not otherwise noted), such as:
General History of Railroading in the U.S.
Railroading Vocabulary
History of Local Railroads (Santa Maria Valley), other than the SMVRR (2 sessions)
History of the Santa Maria Valley Railroad (SMVRR) (2 sessions)
History/Video of sugar beet trains to/from Union Sugar, Betteravia (2 sessions, Video Rails #VR074)
Modern Railroading: Signals, Consists, Trackage, etc.
For information on the development of the train layout, see the Train Layout section.

[Home] [Synopsis] [Train Layout (HO)] [Schedule: 2002, 2003]
[For Teachers] [What's New] [Site Overview]