At right, one 2-person crew decides how switches and toggles should be set to move the Southern Pacific diesel (gray with red, sitting in the middle of Miller Street) onto a siding to make way for the short train headed by the GE 70-tonner (yellow and black, also partly on Miller Street).

Immediately below, 4 girls work to finish up reports and short stories. You can see the pile of both in the foreground on the table.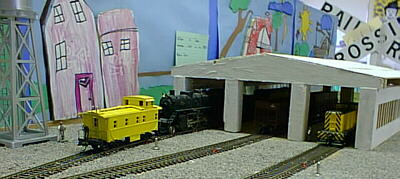 Further below on both sides are some closeup pictures of various areas of the layout. You can see that many parts are now finished, and "little things" like people and cows have been added.

We decided today that we need to post a picture or two in the classroom of what the layout looked like the day the students first saw it. They should be impressed with the work they've done. Here's the Before and After page.